Water Heater Installation Options: DIY, Handyman, or Professional Plumbing Company
Introduction
Installing a water heater is a task that requires careful consideration. It's a vital appliance in your home, ensuring a steady supply of hot water for various purposes. While some homeowners are tempted to take the DIY route or hire a handyman to save costs, it's essential to weigh the potential consequences. In our previous article, we discussed the perils of DIY installations. In this continuation, we'll explore three options for water heater installation: DIY, hiring a handyman, and enlisting the services of a professional plumbing company.
DIY Installation
Undertaking a water heater installation on your own can be a cost-saving endeavor. However, it comes with significant risks and potential aftereffects. If you lack experience, you might encounter challenges with local regulations, safety concerns, and warranty voidance, as discussed in our previous article. The DIY route can lead to costly repairs down the road, making it a less appealing option for many homeowners.
Hiring a Handyman
The second option is to hire a handyman. Handymen are often skilled individuals who can perform a range of household tasks, including water heater installation. Their services are typically more budget-friendly compared to professional plumbing companies. A handyman in California can perform a wide range of services as long as the project's total cost is less than $500. That includes labor and materials. A handyperson is usually someone who can complete a job on their own. It's important to understand the difference since unlicensed contractors could face fines, misdemeanor charges.
So what can a handyman do without a license? Here are some examples to help determine if the jobs you perform mean you're a handyman or a general contractor. As an unlicensed handyman in California, you can perform the following tasks:
Fix fences
Repair doors
Hang and patch drywall
Mount televisions
Repair appliances
Install ceiling fans
Repair faulty toilets
As you can see, this list of works does not include complex plumbing work, much less installation of a water heater.
Case Study: United Plumbing
United Plumbing has a case study that illustrates the potential consequences of hiring a handyman for water heater installation. A client, initially a potential customer, decided to consult United Plumbing about water heater models and prices. After hearing the estimate, she opted to go with a handyman to save money. The water heater was successfully installed, but problems arose during the state inspection. The installed unit did not meet the technical requirements, leaving the homeowner in a difficult situation.
When she approached the handyman for help, he couldn't assist as this issue fell outside his expertise. The homeowner was left to navigate the approval process with the inspector independently. Confused and abandoned, she eventually sought United Plumbing's assistance once more. Professional plumbing companies are not just responsible for installation but also for inspections, warranties, and ongoing maintenance.
Professional Plumbing Company:
Choosing a professional plumbing company for your water heater installation may initially come at a higher cost, but it offers numerous advantages. These companies have licensed and experienced technicians who ensure that installations comply with local regulations and meet technical requirements. Moreover, they provide post-installation inspections, warranties, and ongoing maintenance, offering peace of mind to homeowners.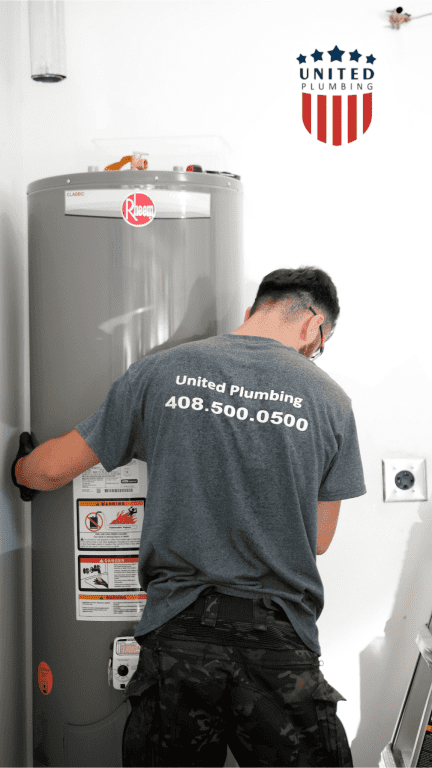 Conclusion
The decision on how to install a water heater is a significant one with long-term implications. While DIY and hiring handymen may seem cost-effective upfront, they can lead to complications, repairs, and stress in the future. The case study from United Plumbing highlights the potential pitfalls of opting for a handyman without proper licensing and permits.
In many cases, turning to a professional plumbing company can save you time, nerves, and money. Their expertise, adherence to regulations, and comprehensive services ensure a reliable and safe water heater installation. When making your choice, consider not just the initial cost but also the long-term benefits of a professional approach to water heater installation. Your investment in a reputable plumbing company can provide you with a trouble-free and efficient hot water supply for years to come.
Post views: 42