We will help you solve any water heater issues of any complexity
from
$1499
We provide over 25 years of reliable water heater installation, replacement and repair services in California
Guarantee for 6 years

Well reviewed and highly trusted

Fully licensed and insured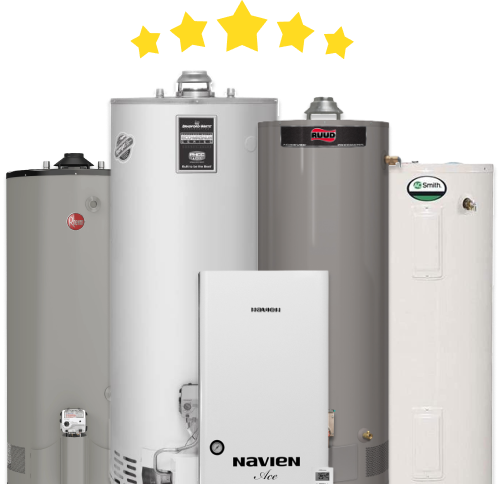 Electric water heater in Los Altos
Home »
Hey, Los Altos! We're United Plumbing, and we know how crucial a good, hot shower is to kickstart your day. That's why we're here to enlighten you on the charm of electric water heaters. Say adios to frigid mornings and hello to a world of warm comfort.
Variety is the Spice of Life: The Spectrum of Electric Water Heaters
As the saying goes, different strokes for different folks. And when it comes to electric water heaters, you've got options aplenty:
Storage Water Heaters: Reliable, like your go-to coffee shop that always gets your order right.
Tankless Water Heaters: Efficient, like the express checkout lane at the grocery store.
Heat Pump Water Heaters: Green, like your reusable shopping bag.
Solar Water Heaters: Innovative, like Los Altos itself.
United Plumbing has your back, helping you choose the best fit for your lifestyle.
United We Stand: Your Partner in Installation and Maintenance
At United Plumbing, we don't just sell you an electric water heater; we stand by you in this cozy journey. From installing your heater to making sure it stays in top shape, we've got you covered.
Maintaining your heater will guarantee:
Longer lifespan: Your heater will thank you for the TLC.
Better efficiency: Keep your bills down and your showers hot.
Fewer repairs: Spend less time fixing and more time enjoying.
We're all in this together, Los Altos!
Worth Every Penny: The True Cost of Quality
Quality doesn't come cheap, but it sure is worth it. At United Plumbing, we ensure you get the best bang for your buck. No hidden costs, no surprise charges – just straight-up, honest pricing. That's how we do things in Los Altos.
Wrapping it Up: Say Yes to Warmth!
Los Altos, the time to step up your shower game is now! With United Plumbing, you're not just getting an electric water heater; you're investing in a comfort upgrade. Picture endless warm showers, just a knob turn away.
But don't just take our word for it. Check out the rave reviews from our happy Los Altos customers. Their experiences are the testament to our dedication and commitment. So, are you ready to hop onto the warm bandwagon with United Plumbing? Join the heat club, Los Altos! Let's turn up the warmth together. Your hot shower awaits. Dive in!
_____________________________
United Plumbing & Water Heaters
Phone: (855) 642-6647
Email: [email protected]
Los Altos
Serviced ZIP codes: 94022; 94023; 94024
And thousands of satisfied clients
Service Areas In California:
San Diego
,
Daly City
,
San Bruno
,
Redwood Shores
,
Woodside
,
Los Altos
,
East Palo Alto
,
 Los Altos Hills
,
Santa Clara
,
Mountain View
,
Campbell
,
Stanford
,
Saratoga
,
San Mateo
,
Redwood City
,
Millbrae
,
Palo Alto
,
San Carlos
,
Milpitas
,
Menlo Park
,
Los Gatos
,
Hillsborough
,
Foster City
,
Cupertino
,
Burlingame
,
Belmont
,
Atherton
,
Rocklin
,
Sunnyvale
,
Sanjose
,
We accept
Main office:

10089 Willow Creek Rd #200, San Diego, CA 92131

LIC:

#1061226
Main office:
10531 Pineville Ave, Cupertino, CA 95014
We accept
1997-2023 © United Plumbing & water heaters