We will help you solve any water heater issues of any complexity
from
$1499
We provide over 25 years of reliable water heater installation, replacement and repair services in California
Guarantee for 6 years

Well reviewed and highly trusted

Fully licensed and insured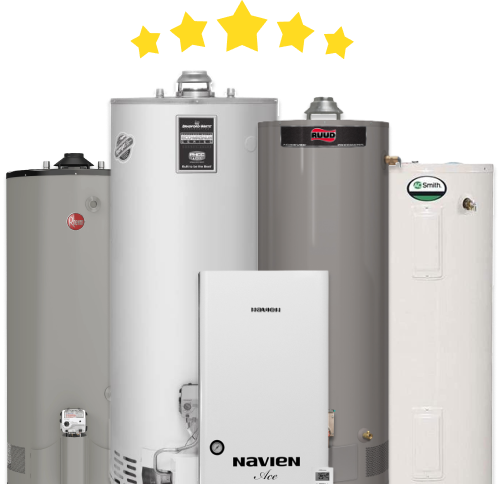 Rheem water heater in Mountain View
Home »
The worst way to start your morning in the chilly climate of Mountain View is a cold shower. It's an ordeal we wouldn't wish upon our worst enemy. This is where the Rheem water heater comes into play.
These hot water machines, offered by the ever-dependable United Plumbing, are no regular water heaters. They are marvels of modern technology, known for their high performance, longevity, and user-friendliness.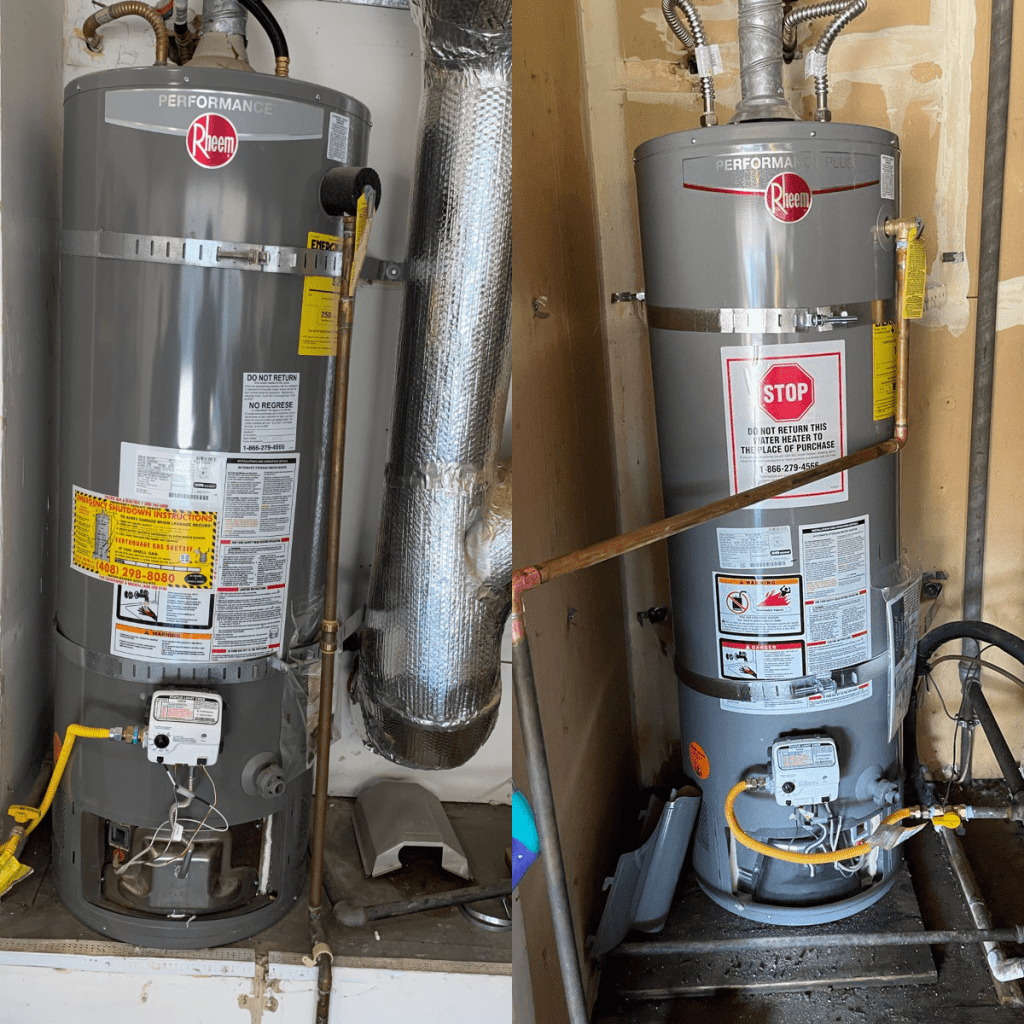 The Inner Workings of a Rheem Water Heater
How does a Rheem water heater ensure you've got a cozy shower waiting for you every morning? It's an elegant dance of technology that begins when cold water from your supply line enters the water heater.
Here's a quick step-by-step rundown:
The incoming cold water is swiftly heated using either electric elements or a natural gas burner, based on the heater model you have.
The now heated water is stored safely in an insulated tank, ready to be delivered when you need it.
When you turn on the hot water tap, the heated water from the tank's top is delivered to you, while cold water refills the tank from the bottom to be heated for later use.
Why Rheem Water Heaters Rule the Roost
When you're shopping for a water heater, what you're actually doing is shopping for assurance, comfort, and value for money. That's the Rheem promise! Here are some reasons why:
Peak Efficiency: Designed to reduce heat loss, Rheem water heaters ensure most of the energy used goes into heating the water, which reflects as savings on your energy bills.
Built to Last: Crafted with top-quality components, Rheem heaters are durable and reliable, promising years of service.
User-friendly: Rheem models are simple to operate and require minimal maintenance. And with United Plumbing, expert help is always just a call away.
Rheem Water Heater Installations Made Easy
At United Plumbing, we handle your Rheem water heater installation in Mountain View with care and precision. Our team of seasoned professionals cover everything from the initial assessment to the final setup, ensuring your heater operates efficiently.
Ensuring Your Rheem Water Heater Stays Fighting Fit
Here are a few tips to help keep your Rheem water heater in prime condition:
Annual Check-ups: Get your heater inspected by United Plumbing's expert team once a year to nip any potential issues in the bud.
Tank Cleaning: Sediment build-up can affect your heater's efficiency. Regular draining and flushing can prevent this.
Safety Checks: The pressure relief valve, which is a safety feature releasing excess tank pressure, should be tested regularly to ensure it's functioning properly.
Ignite Your Comfort with Rheem and United Plumbing
With Rheem water heaters, comfort is a certainty, not a luxury. And when you're in Mountain View, United Plumbing is your go-to for expert installation and maintenance.
When you pick a Rheem water heater, you're not just picking a product; you're picking a lifestyle upgrade. So, make the leap and reach out to United Plumbing. Comfort is just a warm shower away!
_____________________________
United Plumbing & Water Heaters
Phone: (855) 642-6647
Email: [email protected]
Mountain View
Serviced ZIP codes: 94039; 94040; 94041; 94042; 94043; 94085; 94303
And thousands of satisfied clients
Service Areas In California:
San Diego
,
Daly City
,
San Bruno
,
Redwood Shores
,
Woodside
,
Los Altos
,
East Palo Alto
,
 Los Altos Hills
,
Santa Clara
,
Mountain View
,
Campbell
,
Stanford
,
Saratoga
,
San Mateo
,
Redwood City
,
Millbrae
,
Palo Alto
,
San Carlos
,
Milpitas
,
Menlo Park
,
Los Gatos
,
Hillsborough
,
Foster City
,
Cupertino
,
Burlingame
,
Belmont
,
Atherton
,
Rocklin
,
Sunnyvale
,
Sanjose
,
We accept
Main office:

10089 Willow Creek Rd #200, San Diego, CA 92131

LIC:

#1061226
Main office:
10531 Pineville Ave, Cupertino, CA 95014
We accept
1997-2023 © United Plumbing & water heaters